Ok, so I decided to skip day 15 (Collaborate) because I feel it is just a combo of day 13 (Surround yourself with creative people) and day 14 (Get feedback). Basically, work with others, get their opinions, bounce ideas off them with will in turn give you ideas = CREATIVITY… and all will be peachy. Got it.
Ayyyy….
Don't Give up….
Well. This one is pretty much self explanatory. And for me it was a slap in the face.
SO….I worked on a series of acrylic paintings on canvas this summer. They were painted in a post card style, of cities where my husband and I have lived together..Madrid, New York, and Istanbul. I included things that were my favorite part of that city, using colors I felt represented it. I wanted to include a cityscape and important landmarks in the paintings. New York and Madrid came out great , and it was a fun idea…….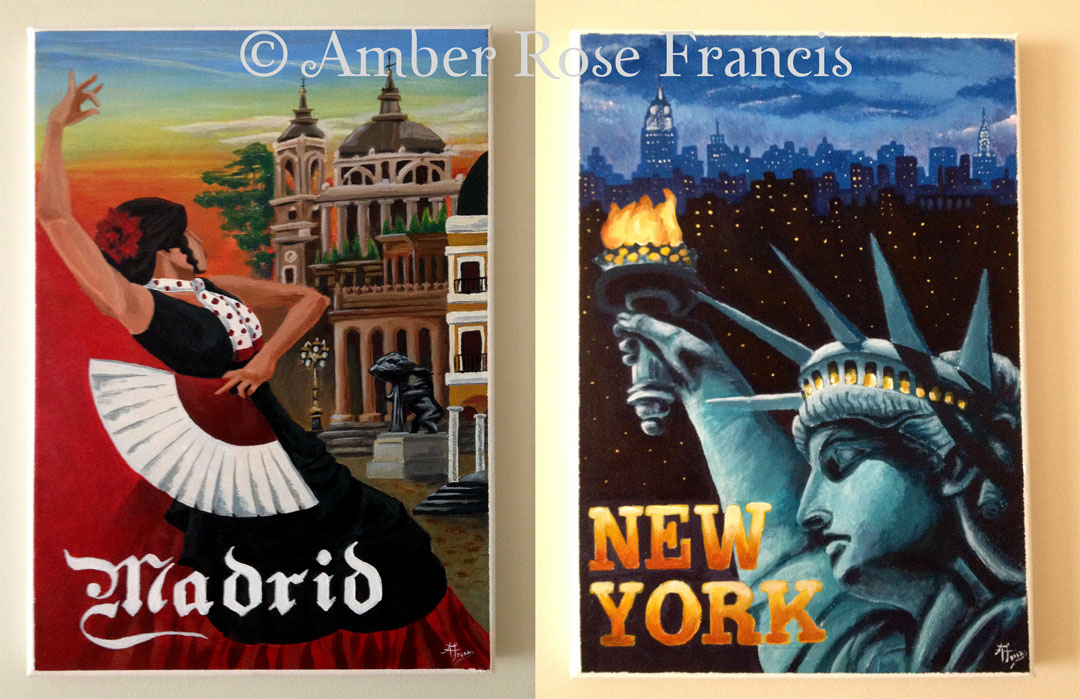 ………….until I met Mr. Istanbul. I had all these ideas but when I put them on the canvas I couldn't make it work and got disheartened…and put it aside.
My husband is so funny. At least once a week he will ask me if I am going to finish Istanbul. It drives me crazy, but he is right! I should finish it and I shouldn't give up on it. Just because it is a personal project and not for any client doesn't give me leave to just give up on it, nor permanently place it on the back burner.
Here and now I pledge….to finish my Istanbul painting. haha. Maybe it may even be my Day 33? haha, we'll see 🙂
Stay tuned…TOMORROW: Practice! Practice! Practice!
To see the full list go HERE.